Are you a Minecraft enthusiast looking for the perfect keyboard to enhance your gameplay experience? Look no further! In this blog post, we will be discussing the best keyboards on the market specifically designed for Minecraft players.
From mechanical keyboards with customizable backlighting to compact gaming keyboards with programmable macro keys, we've got you covered. Whether you're a hardcore miner or a creative builder, finding the right keyboard can make all the difference in your gameplay.
So, gear up and get ready to take your Minecraft skills to the next level with the best keyboard by your side.
How to Choose the Best Keyboard for Minecraft?
The most important factor to consider when buying a keyboard is its compatibility with the game's control. It would be best if you had a keyboard that allows you to easily access all the necessary controls, such as movement, inventory management, and building.
These are the few features that you should look for in a keyboard for Minecraft:
Customizable Keybinds:
The art of keybinding is an important part of any good gaming keyboard. It's a must-have for a keyboard if you want to enhance your gameplay by customizing the controls to your own need.
Macro Keys:
Some keyboards come with programmable macro keys that allow you to perform a series of actions with a single keystroke. This can be useful for automating repetitive tasks, such as building walls or creating specific items.
Great Build:
A great build is important for a keyboard, whether it's for Minecraft or any other game. You don't want your keyboard falling apart just after a month of usage.
Response Rate:
You should keep the response rate of a keyboard in mind when looking for the best keyboard for Minecraft if you don't want to wait millennia to see the on-screen action after pressing a key.
Now without further ado, let's get down to our top picks for the best keyboard for Minecraft:
The 4 best keyboard for Minecraft in 2023
1. Corsair K95 RGB Platinum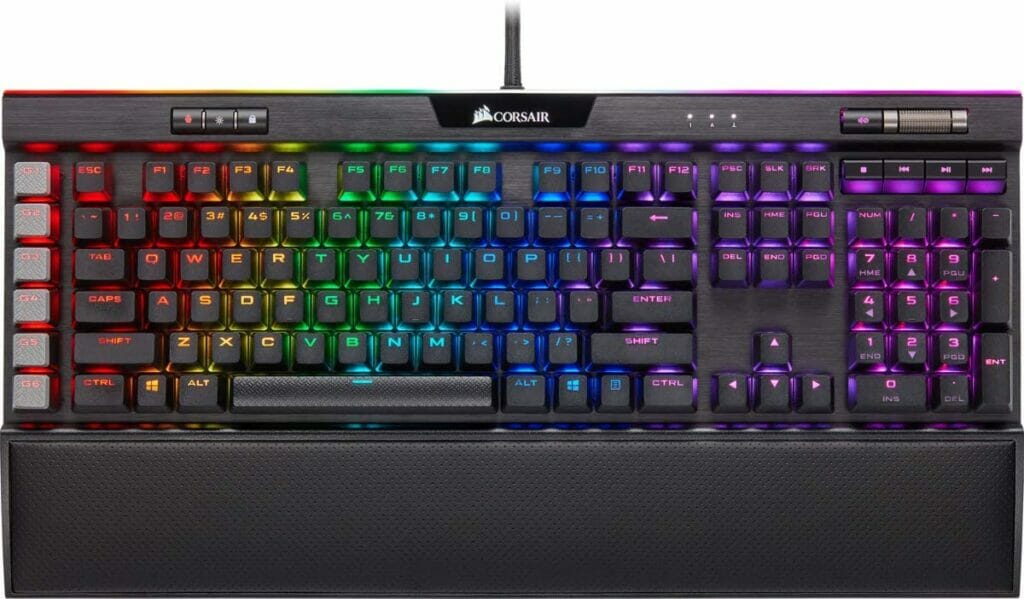 The first thing you will notice about Corsair K95 RGB is its premium build quality. The aircraft-grade anodized brushed aluminum gives it a durable yet sleek design. Corsair K95 can withstand even the most intense gaming sessions, making it a dependable gaming partner.
The Cherry MX Speed Mechanical switches of Corsair K95 are fast and responsive, ensuring you don't fall behind your opponents in terms of speed. This is especially important in PVP matches, where every blow counts.
Corsair K95 also features customizable RGB lighting allowing you to create a lighting scheme that suits your taste. And the dedicated media keys and volume dial of Corsair K95 enables you to control your media playback and volume, saving you from the hassle of alt-tab out every time.
The ergonomic design of Corsair K95 is also a standout feature. Its detachable wrist rest provides the necessary comfort during long and intense gaming sessions. Corsair K95 has six dedicated macro keys that you can program to give specific commands.
If you are a Minecraft streamer, Corsair k95 will make streaming easy as it has a USB passthrough port. You can connect your mouse or other USB devices directly to your keyboard rather than reaching around the back of your pc.
| | |
| --- | --- |
| Pros | Cons |
| Great Build and switches | Not portable |
| Comfortable Wrist Rest | |
| Beautiful RGB Lighting | |
2. Razer Huntsman Elite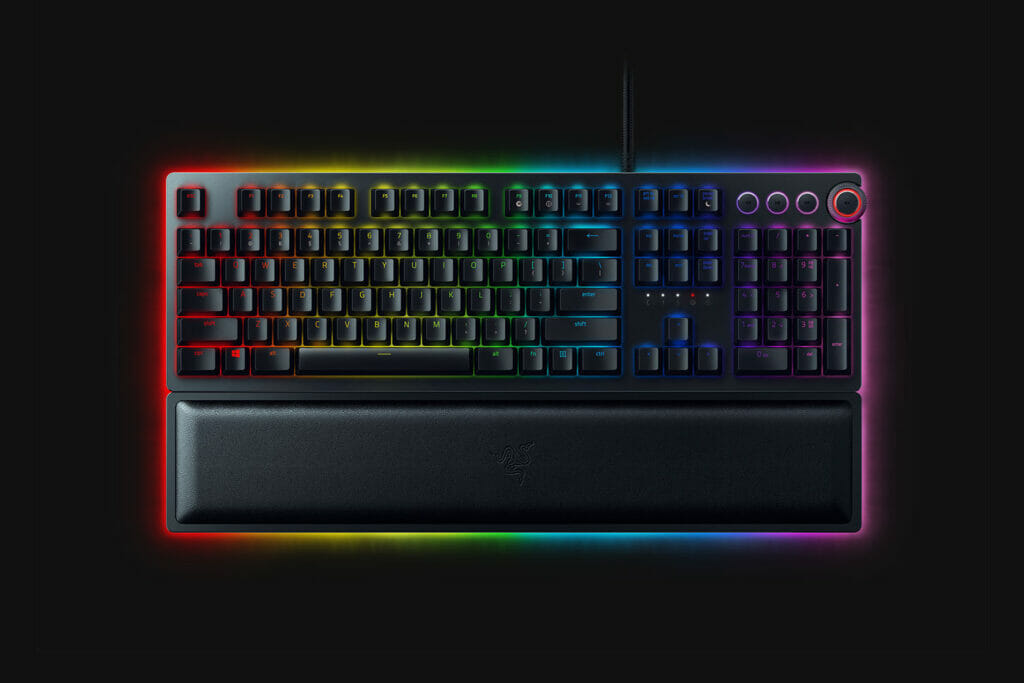 Razer Huntsman Elite is a great keyboard in terms of speed and precision. Its cutting-edge technology and advanced features set a new standard for gaming keyboards on the market.
The optical switches of Razer Huntsman Elite use light-based actuation, different from traditional mechanical switches, to register key presses. This results in a shorter actuation distance and a faster response rate, giving you a huge advantage in fast-paced gaming sessions.
Another great feature of Razer Huntsman Elite is its customizable Chroma RGB backlighting. You can choose and create your personal lighting profile from 16.8 million colors. You can also synchronize the lighting with other Razer Chroma devices.
Razer Huntsman also comes with dedicated media keys and a detachable wrist rest that is easy to clean and remove if you prefer to play without it. With its Razer Synapse 3 software, you can customize RGB lighting, set up macros, create profiles, and more. You can also save your settings to the keyboard's onboard memory to make playing Minecraft easy while traveling.
The dedicated multimedia keys of Razer Huntsman Elite allow you to adjust your music and videos easily. This feature is particularly useful for Minecraft streamers. This keyboard's durability is also greater than your average keyboard; it's built to last, with a lifespan of 100 million keystrokes.
| | |
| --- | --- |
| Pros | Cons |
| Optical switches increase the response rate | Expensive |
| Dedicated media keys and a detachable wrist rest | |
| On-board memory | |
3. Keychron Q2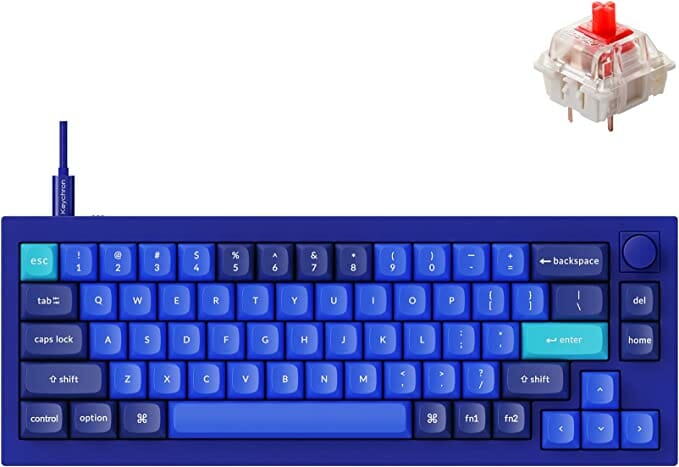 If you want to save some space on your gaming desk for the mouse to move around and need a compact keyboard but don't want to sacrifice the features of a full-sized keyboard, then Keychron Q2 is your need of the hour.
The Keychron Q2 uses Gateron Red mechanical switches, known for their smooth, linear keystroke and lower actuation force. They don't cause fatigue, making them perfect for long gaming sessions.
The full N-Key rollover and a polling rate of 1000 Hz make sure that every keystroke is registered with precision and speed.
Keychron Q2 also supports three different device connections allowing you to switch between your computer, phone, and tablet.
The switches of Keychron Q2 are Hot-Swappable. It is compatible with both Windows and Mac; Keychron Q2 also has dedicated media keys and USB-C for charging other devices.
In addition to its awesome features, Keychron Q2 also has beautiful aesthetics. Its minimalistic look gives it a sleek and modern design.
| | |
| --- | --- |
| Pros | Cons |
| Compact size | Not available in wireless technology |
| Hot-Swappable | |
| Fast response rate | |
4. Corsair K55 RGB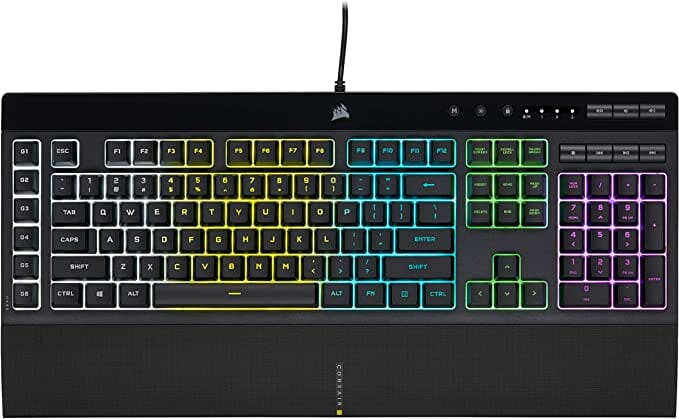 Corsair K55 is a keyboard that is designed for both style and function. If you are looking for a gaming keyboard to improve your Minecraft gameplay with a specific budget in mind, then Corsair K55 is for you.
The customizable RGB backlighting of Corsair K55 adds beauty to your gaming setup. You can also improve your gameplay with this feature by highlighting important keys or providing visual cues in-game.
Corsair K55 also has six macro keys, and you can configure them to perform specific, complex functions easily with a single button press. Corsair K55 has a great build and a spill-resistant design, perfect for gamers like me who like to stuff their faces while playing.
The membrane switches of Corsair K55 are smooth and silent and provide tactile feedback without being noisy. The included software of Corsair allows you to create profiles for different games and customize your macros.
| | |
| --- | --- |
| Pros | Cons |
| Spill-resistant design | Keys can feel a bit heavy |
| Detachable wrist rest | |
| Budget-friendly | |
Conclusion
All the keyboards mentioned above are great in their own rights for playing Minecraft, but the best keyboard for Minecraft for you will depend on your needs and preferences. Some may prefer a mechanical keyboard, while others may like a compact keyboard. The most important thing is that the keyboard is comfortable to use and helps you play more efficiently and enjoyably.
Don't forget to check "How to clean under a laptop keyboard".