When it comes to gamers, we all know how passionate they are about their gaming setup, from gaming chairs, gaming desks, gaming pc, gaming monitors, gaming mice, and gaming keyboards. I am a gamer myself so I can relate to them. We want everything perfect down to the last-minute detail.
Black has been the mainstream color of gaming setups, but with time things are changing. Now the trend is shifting towards something more aesthetic, like white. As white keyboards are the new favorites in town, we gamers want only something that is both hi-tech and aesthetic.
So, after carefully checking every white keyboard out there, I have selected the best white gaming keyboards for my homies.
5 best white gaming keyboard
Before we get into the list of the best white gaming keyboard, let's go through how I chose this list of best white gaming keyboard. Since I am a gamer myself, I paid extra attention to factors like ergonomics, keyboard durability, keyboard size, and whether the white keyboard has an N-Key rollover.
Now, without further ado, let's get right down to it.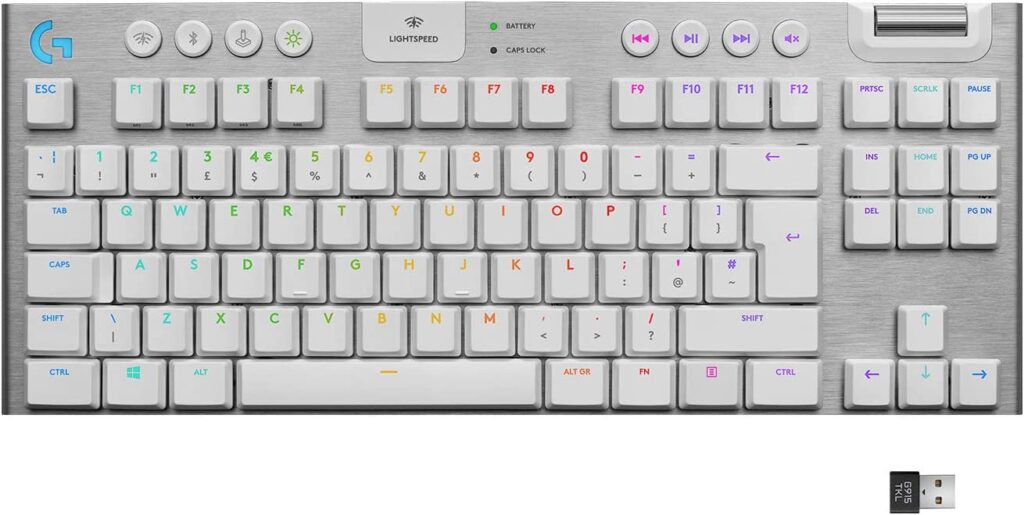 Logitech G915 is the best TKL gaming keyboard. The best white gaming keyboard should meet all the requirements of a modern-day gamer, and that's where Logitech G915 TKL comes into the picture. A lean yet durable build, excellent battery life, and a strong signal. Bring into that LIGHTSYNC RGB, and it ticks all the boxes of being the best white gaming keyboard.
Excellent battery life is a must-have when we think of the best white gaming keyboard. Now think about this for a second; you are playing God of War, and you are about to kill Odin at that exact moment your keyboard runs out of power. I can imagine the frustration and anger one would feel at that moment. You would feel like taking your keyboard and smashing it into the wall. Logitech G915 TKL's 40 hours long battery life will take your gaming experience to a higher dimension of play.
Agreat build is a thing that is as important as excellent battery life. Logitech G915 TKL has an incredibly thin yet sturdy and durable build. That's thanks to the Aluminum alloy used in its design. Despite being made of plastic, the keys of the Logitech G915 TKL feel sturdy. The low-profile mechanical switches of the Logitech G915 offer an automatic switch's speed and accuracy and add beauty to the keyboard.
My favorite feature of the Logitech G915 is its RGB lighting. It beautifully adds a bright yet faint, focused glow to the keyboard's aesthetics. It doesn't have a wrist rest, but its other features are more than enough to make up for that, and you also get two sets of feet that make your gameplay more comfortable.
Pros
Excellent battery life
Great build
Wireless connection
N-Key rollover
Strong connection
Low-profile switches
Cons
No macro keys
No wrist rest
2.Sturdy and Quiet: Best White Gaming Keyboard Razer Huntsman V2 TKL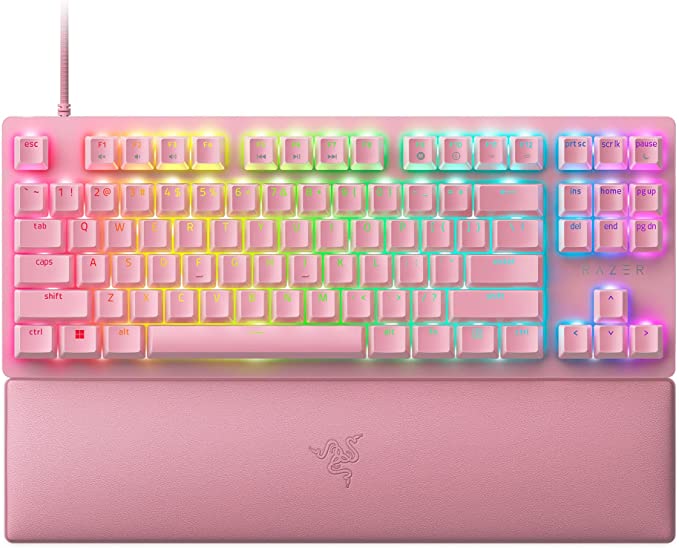 Our second-best white gaming keyboard is Razer's Huntsman V2 TKL. Over the years, Razer has produced some of the best keyboards in the market, and the Razer Huntsman V2 TKL is another addition to their collection of great keyboards. With its optical switches, double-shot PBT keycaps, wrist rest, and sound-dampening foam Huntsman V2 TKL meets any gamer's needs.
If the noise of pressing the keys distracts you while gaming, and you would like a quieter gaming experience, you should get Huntsman V2 TKL. Razer improved Huntsman V2 TKL switches with sound dampeners. Huntsman V2 TKL also has foam inside its casing which absorbs any sound produced when the keys are bottomed out.
Huntsman V2 TKL is also very durable. The rear half of the keyboard is covered with an aluminum plate and thick plastic. The double-shot keycaps are also sturdy than average keycaps. The life span of Huntsman V2 TKL's optical switches is 100 million years. Add into that the detachable cable, and we have one hell of a sturdy keyboard.
Let's not forget about the fast response time, RGB lighting, and wrist rest which enables you to continue gaming for several hours without your wrists getting tired, making the Razer Huntsman V2 TKL well deserving of being second on our list.
Pros
Wrist rest
Highly responsive
Quieter gaming experience
Very durable
On-board memory storage
Cons
No multimedia hotkeys
It takes time to get used to
3. Response Rate 1ms: Best White Gaming Keyboard Corsair K70 RGB MK.2 SE 
Both of the keyboards mentioned above are TKL design, and if you are looking for a full-sized keyboard, then this new model of Corsair K70 RGB is sure to suit your needs. Corsair is one of the big names in the keyboard manufacturing companies, and among their many great keyboards, Corsair K70 RGB MK.2 SE is the greatest-ever keyboard they produced. It's the best white gaming keyboard overall.
The thoroughly brushed aluminum plate makes the Corsair K70 one of the sturdiest keyboards on the market. Hardcore gamers will surely like this, as Corsair K70 can take plenty of abuse and won't break like your run-of-the-mill keyboards. Add the wrist rest to this, and we have the perfect combo of sturdiness and comfiness for our ultimate gaming experience.
Corsair K70's Cherry MX Speed switches are one of its outstanding features. It has a lightning-fast actuation point of 1.2mm, enabling you to kill your enemy before he even presses his keyboard keys. He won't know what hit him. These switches can stand up to 100 million keystrokes, and let's not forget the double shot keycaps meaning you aren't wearing this keyboard down anytime soon.
You don't need to worry if you feel like playing a game while on the move, as Corsair K70 has got your back. 8MB of profile storage with hardware macro and lighting playback allows you to store up to three files without any external software. My favorite feature of Corsair K70 is its per-key RGB backlighting and unlimited customization options. Corsair iCUE software allows you to customize and sync the RGB backlighting effects with other Corsair products.
Pros
High-speed switches
Customizable RGB
Beautiful aesthetics
8MB profile storage
Excellent durability
Multimedia hotkeys are present
Cons
4. Mechanical Switches and Lower sensitivity: Best White Gaming Keyboard Asus ROG Strix Scope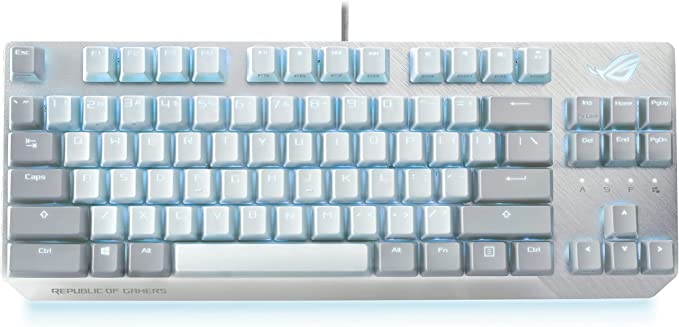 Asus is no stranger when it comes to making gaming equipment. They have made some of the best gaming ware over the years, and Asus ROG Strix is another member of their glorious gaming ware family. Asus ROG Strix has a TKL design, so it is perfect for those gamers who like to save space on their desk for the mouse to move around freely.
If you are a fan of games like Fortnite or PUBG, you need a keyboard that can keep up with your aiming skills, and Asus ROG Strix is made to kill your enemies with a single headshot. The ROG Strix is perfect for lower-sensitivity settings, which slows the reticle for more aiming accuracy. The ROG Strix also features an extra comprehensive control key that is easier to find in a wild gaming session.
Asus has its ROG NX brown and red switches that offer an actuation speed of 1.8 mm for fast input. It's not as good as Corsair K70, but it is still better than most keyboards. Gamers like me who play games just as a hobby and don't participate in competitions should go for Asus ROG Strix. With an aluminum faceplate topped on the keyboard, there are no questions to be asked about its durability as well.
The RGB lighting of the Asus ROG Strix Scope is just the icing on the cake. The individually illuminated keys, the shining ROG Strix logo, and the effect extending the lighting beyond the keyboard are exquisite. The aura sync software of Asus lets you control the RGB lighting and customize it according to your own preference.
Pros
Beautiful RGB lighting
Two different switches
Aiming accuracy
Exceptionally responsive
Cons
5. AIMO Illumination: Best White Gaming Keyboard ROCCAT Vulcan 122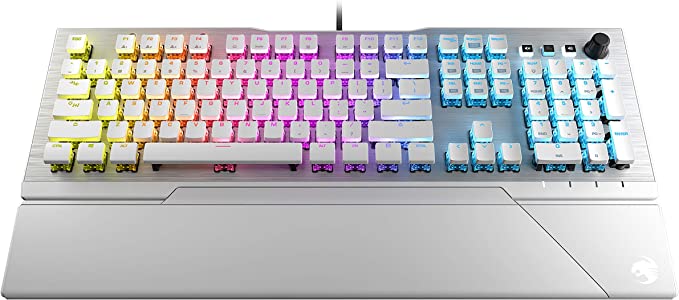 Our second pick in the full-sized keyboard category is ROCCAT Vulcan 122. ROCCAT Vulcan 122 is fully designed and built by ROCCAT engineers. It is a dream keyboard for gamers who love mechanical switches but also demand that the keyboard have instant response and tactile bump. With its advanced anti-ghosting technology ROCCAT Vulcan 122 will ensure that each of your keystrokes gets registered correctly regardless of how berserk the action gets.
Being a full-sized keyboard, ROCCAT Vulcan isn't missing any media hotkeys. The volume dial and backlit media buttons enable you to adjust the volume according to your preference during an intense gaming session. It also allows you to switch to lighting control to modify the brightness. The detachable palm rest is a cherry on top, letting you relax your wrist while bashing your enemies.
The new intelligent lighting system of ROCCAT, called AIMO, is one of the best things about this keyboard. There is no need for extensive configuration. It will adjust the lighting on its own according to your liking. Titan switches of ROCCAT save you from the hassle of cleaning your keyboard as they are designed to keep the dirt and dust out.
Did I mention the aluminum layer reinforcing the keyboard? It makes the keyboard durable and sturdy enough to keep up with hardcore gamers. With all these features, ROCCAT Vulcan 122 is the best white gaming keyboard made by ROCCAT.
Pros
Not tricky to clean
Beautiful aesthetics
Excellent durability
AIMO illumination
Cons
No USB passthrough
Fragile wrist rest
Conclusion
With that, our list comes to a close. There is something for everyone on this list. If you want a keyboard with exceptional response time, consider Corsair K70, and if you are looking for one with beautiful white aesthetics, Asus ROG Strix is what you need. We update this list regularly. If you have any recommendations for us, mention them in the comments.
Don't forget to check ''Best Budget Hot Swappable Keyboard"