Finding the right keyboard for small hands is no easy task. Whether you're a professional typist, a casual gamer, or just looking to upgrade your home office setup, it can be difficult to find the right keyboard that fits your needs. Not only do you need to find one that is comfortable to use, but also one that is designed for your specific hand size.
Thankfully, there are several excellent options out there that are perfect for those with small hands. Whether you're looking for a mechanical keyboard, a wireless keyboard, or something else, you can find one that fits your needs and budget. From a quiet and compact design to a durable and adjustable keyboard, there's sure to be one that is just perfect for you.
Key Features to Consider When Choosing the Best Keyboard for Small Hands
When you are out on the hunt for the best keyboard for small hands following are the features that you should look for in your ideal keyboard for small hands:
Size and layout: Look for a compact keyboard with a smaller layout, such as 60% or 75% size, to reduce the overall reach for small hands.
Key spacing: Ensure there is enough space between the keys to prevent mistyping, especially for people with small hands.
Key travel: Shorter key travel may reduce strain on the fingers and make typing more comfortable.
Ergonomic design: An ergonomic design can reduce strain on the hands and wrist. Look for keyboards with wrist rests, adjustable stands, or split keyboards.
Customizable key functions: Consider a keyboard with programmable keys that can be customized to reduce hand movement and increase efficiency.
Lightweight and portable: A lightweight and portable keyboard can be helpful for those who need to use their keyboard on the go.
Durability: Ensure the keyboard is built to last and can withstand heavy use.
5 Best Keyboard for Small Hands in 2023
The following keyboards are our top contenders for the best keyboard for small hands:
Logitech G Pro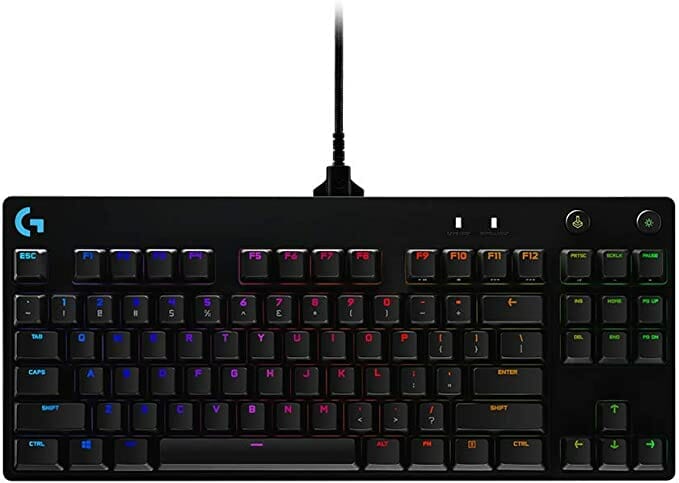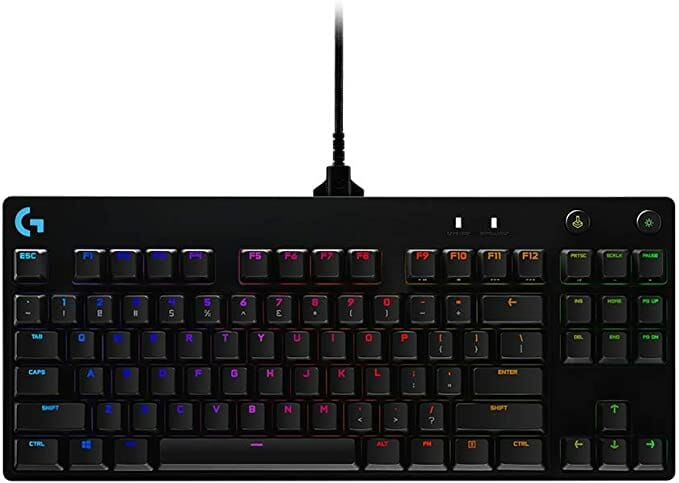 The Logitech G Pro Mechanical Gaming Keyboard is a top-of-the-line keyboard designed specifically for gamers. This keyboard features Logitech's exclusive GX Blue switch technology, which provides satisfying tactile feedback with every keystroke. The switches are rated for 50 million keystrokes, ensuring the longevity of the keyboard for even the most dedicated gamers.
In terms of design, the G Pro is a minimalist keyboard, with a sleek and compact profile. It is made from high-quality materials, including aircraft-grade aluminum, and is built to withstand the rigors of intense gaming sessions. The keyboard also features customizable per-key RGB lighting, allowing users to personalize the look of their setup to match their individual style.
The high level of customization makes Logitech G Pro an excellent choice for people with small hands. The Logitech Gaming Software (LGS) allows users to program macros, adjust the RGB lighting, and more. The software is intuitive and easy to use, and the keyboard comes with several pre-programmed profiles for popular games.
The Logitech G Pro also has a USB passthrough. You can connect other gaming peripherals directly to your keyboard instead of going all the way to the back of your PC. With its onboard memory, you can save your progress and take it with you on the go.
Apple Magic Keyboard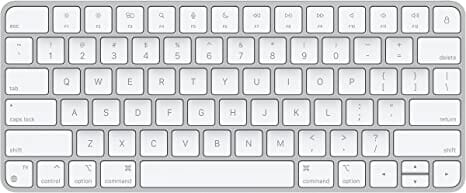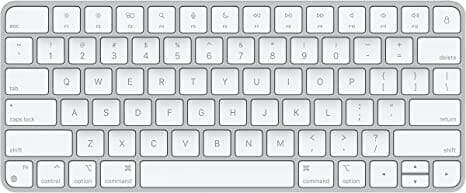 The Apple Magic keyboard features the signature Apple minimalist design with a sleek and clean look. It is constructed with high-quality materials and has a durable construction, ensuring a long lifespan. It connects to your device via Bluetooth and supports various operating systems, including macOS, iOS, and iPad.
One of the standout features of the Apple Magic Keyboard is its scissor mechanism, which provides users with a comfortable and quiet typing experience. The keys are well-spaced and have a pleasant travel distance, making typing a breeze.
The keyboard is also compact and lightweight, making it easy to carry around. Its size makes it an ideal accessory for on-the-go typing, and it can easily fit into a backpack or laptop bag. Its long battery life ensures that you can enjoy hours of gaming effortlessly.
The multi-device support of this keyboard is also one of its many excellent features. You can pair it with multiple devices, including a MacBook, iPad, and iPhone, and quickly switch between them with just a simple key press. This makes it a great accessory for those who need to work on multiple devices.
Redragon K552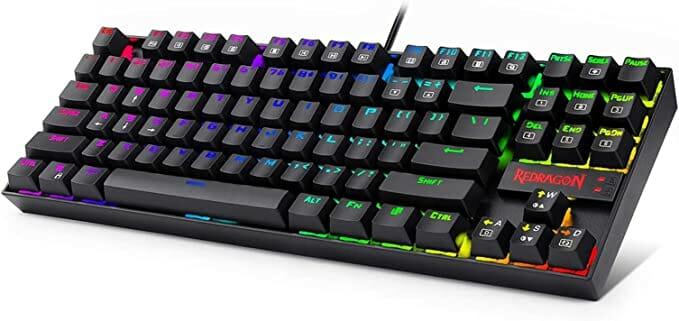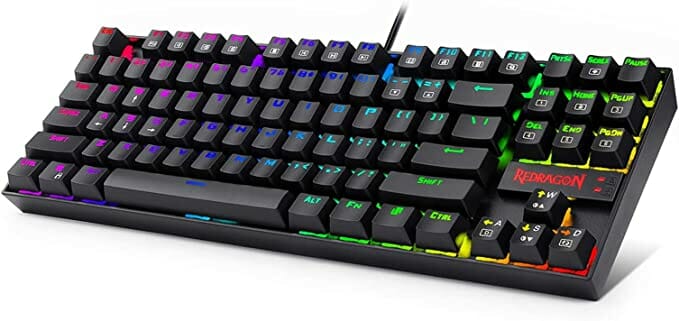 The Redragon K552 is a budget-friendly mechanical gaming keyboard that offers a surprising amount of features and performance for its low price point. With its compact design and durable construction, the K552 is an excellent choice for gamers on a tight budget who are looking for a high-quality keyboard to enhance their gaming experience.
The Redragon K552 features a durable and compact design, making it easy to transport to LAN parties or to take up minimal desk space. It features a military-grade metal frame, making it incredibly durable and resistant to damage from drops and spills. The keys themselves are designed with a mechanical switch, which provides excellent tactile feedback and a satisfying click sound with each press. The keys are also designed to last up to 50 million keystrokes, making it an extremely durable keyboard that will last you a long time.
The Redragon K552 also features anti-ghosting, which allows you to press multiple keys at once without missing any inputs. This is particularly useful for gaming, where you may need to press multiple keys at once to execute complex moves. The keyboard also features a simple and intuitive layout, with all the keys you need for gaming and everyday use easily accessible.
In terms of performance, the Redragon K552 does not disappoint. The mechanical switches provide fast and responsive keystrokes, making it an excellent keyboard for both gaming and typing. The compact design also allows for fast and easy maneuvering, which is great for gamers who need to quickly react to in-game events. Additionally, the keys are backlit, making it easy to see the keys even in low-light conditions.
Keychron K2


The Keychron K2 is a wireless mechanical keyboard that aims to bring together the best of both worlds – the tactile feel of a mechanical keyboard and the convenience of a wireless connection. Whether you're a programmer, a writer, or a gamer, the Keychron K2 is a keyboard that will appeal to you.
The Keychron K2 is available in both a standard and a compact layout, with the latter being more portable and easier to carry around. The keyboard is made of high-quality aluminum, giving it a sturdy and durable feel. The keys are well-spaced and feature a comfortable, concave shape. The keycaps are also backlit, allowing you to type in the dark.
The Keychron K2 connects wirelessly to your computer, laptop, or mobile device using Bluetooth. You can connect up to three devices to the keyboard at the same time, allowing you to switch between them with a press of a button. The keyboard also comes with a USB-C cable that you can use to charge the built-in battery, which can last for up to 72 hours of continuous use.
The Keychron K2 features mechanical switches that provide a satisfying tactile feel when you type. You have the choice between two switch types – the Gateron Red and the Gateron Brown. The Red switches are more suited to gaming, as they provide a linear and light actuation, while the Brown switches are more suitable for typing, as they provide a tactile bump.
In addition to the basic typing functions, the Keychron K2 also features several multimedia keys that allow you to control your music, videos, and other media. The keyboard also has a built-in rechargeable battery, allowing you to take it on the go.
Logitech K780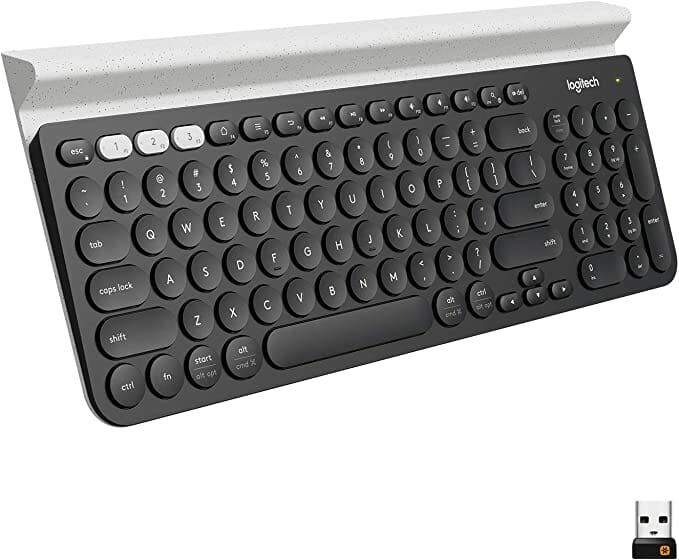 The Logitech K780 is a multi-device keyboard that has been designed to work seamlessly with all your devices, whether they run on Windows, Mac, Chrome OS, iOS, or Android. It offers a comfortable typing experience and a variety of useful features that make it an ideal choice for anyone looking for a reliable and versatile keyboard.
The K780 has a sleek and modern design that will look great on any desk. Its full-sized layout and well-spaced keys provide a comfortable typing experience, while the palm rest and integrated stand for your phone or tablet make it even more convenient to use. The keyboard is made from high-quality materials and feels solid and durable, so you can expect it to last for years to come.
One of the standout features of the K780 is its ability to connect to up to three devices at once, so you can switch between them with ease. Whether you're typing on your computer, tablet, or smartphone, you can do so with the same keyboard. The keyboard uses Logitech's Easy-Switch technology, which allows you to switch between devices with the press of a button.
The K780 is designed to be comfortable to use for extended periods. The full-sized layout and well-spaced keys provide a familiar typing experience, while the integrated palm rest and rounded keycaps offer additional comfort. Additionally, the keys are quiet and offer a decent amount of tactile feedback, making it a great choice for anyone who needs to type for long periods.
The K780 also includes several additional features that make it even more versatile. For example, it has a built-in cradle for your smartphone or tablet, so you can keep your devices within reach while you type. There's also a row of media controls, allowing you to adjust the volume, play/pause music, and skip tracks without having to switch to your device. Finally, the keyboard is fully compatible with Windows, Mac, Chrome OS, iOS, and Android, so you can use it with just about any device.
Conclusion
Finding the best keyboard for small hands can be a bit difficult but if you pay attention to the factors mentioned above and keep in mind what you are looking for, whether it's a gaming keyboard or a keyboard for typing. You will surely find something that suits your needs in our list.
Don't forget to check "The Best Typewriter Keyboard"