What is the best MIDI keyboard for music production?
Now, that's a question that every musician has asked himself before buying one. There are so many MIDI keyboards out there that it could take a lifetime to find the best one. If you are a beginner or even an established musician wasting your precious time, finding a keyboard is the last thing you want to do.
A good MIDI keyboard can give you a significant boost in improving your music production. This makes us wonder how you will know this keyboard is the one you have been looking for. But you don't need to worry, as we have got you covered.
We have prepared this detailed list of the best keyboards out there. This list is based on the following three factors.
Cost
Features
portability
It doesn't matter if you are looking for a low-budget MIDI keyboard, a portable one, or something with excellent features. We have everything you could want to buy in this meticulously prepared list. Without further ado, let's get right down to it.
1.    Akai Professional MPK Mini MK3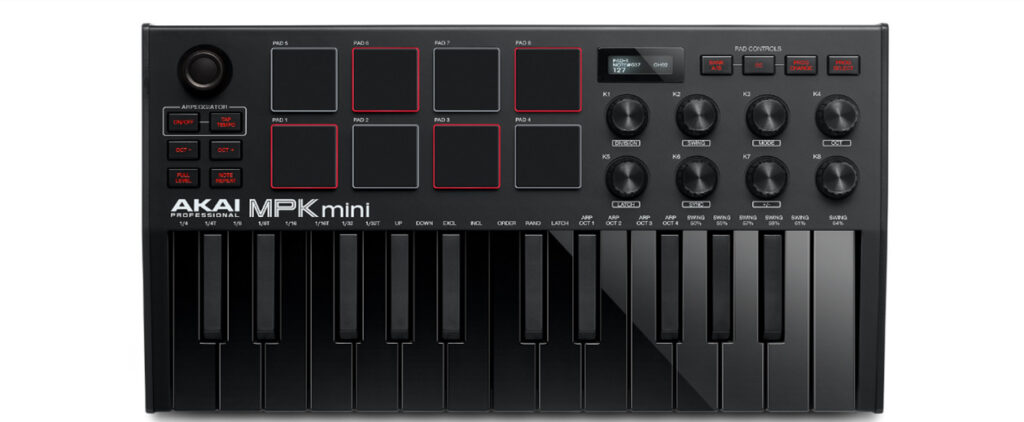 Akai MPK Mini MK3 is the best-selling MIDI keyboard on Amazon. If you are on the hunt for a keyboard that is low in cost and portable as well, then this new version of Akai's MPK Mini is for you.
It is also great for beginners with low-budget. Akai MPK Mini MK3 is an excellent choice for travel-loving musicians as it is easy to carry around. If you feel like getting it later, its mind-blowing features will change your mind.
Key Features
USB-powered MIDI controller
25 velocity-sensitive keys
Compatible with Mac/PC/IOS
Innovative four-way joystick for modulation and pitch control
Built-in arpeggiator
8 velocity-sensitive MPC pads with note repeat and full-level function
8 360-degree knobs
Only 750 g weight
6 Virtual Instruments and 2 GB of sound content
Akai MPK Mini MK3 has everything you could ask for in a MIDI keyboard giving it the number one position on our list.
2.    Novation Launchkey Mini MK3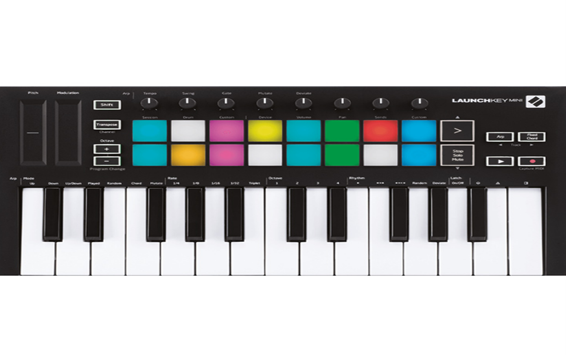 Novation Launchkey Mini MK3 is second on our list. If you are an Ableton user and looking for a MIDI keyboard, then in the land of MIDI keyboards, Novation Launchkey Mini MK3 is what you need. Fundamentally made for Ableton users, Novation Launchkey Mini MK3 might be small in size, but it is jam-packed with fantastic features.
If what I said above is putting other DAW users off, thinking that it is only made for Ableton users, don't worry. It has excellent DAW integration. It plays superbly with other DAWS, such as Logic Pro or Cubase. It also has a great arpeggiator that allows you to change the beat, pattern, or rhythm, adding diversity to your melodies.
Key Features
velocity-sensitive keys
Compatible with Mac/PC/IOS
16 velocity-sensitive RGB pads
Superb arpeggiator
USB-B
USB powered
Fixed chord mode
Integrated DAW
Pitch bend and modulation touchstrips
Octave control
690 g weight
Novation Launchkey Mini MK3 is a great keyboard. That's why It is highly preferred over its counterparts.
3.    Nektar SE25 MIDI Keyboard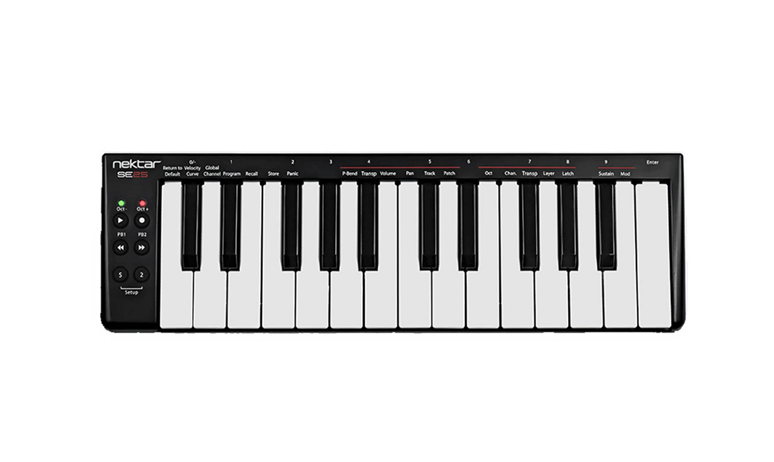 If you like traveling and making music and don't want to leave one thing for the other, then you should get Nektar's SE25 MIDI keyboard. It is portable and also very cheap. It's straightforward to use. It has DAW integration for the most popular DAWs.
It is also compatible with every popular MIDI software out there. You can get the best of both worlds if you get Nektar SE25.
Key Features
25 velocity-sensitive keys
Compatible with PC/MAC/IOS
Great DAW Integration
Broad MIDI functionality
Includes sound content package
Can be connected through a Micro USB port
Sustain pedal input
Approximately 400 g weight
Octave shift available
Has 2 pitch bends
If you have a low budget and want to get something outstanding, then Nektar SE25 is your go-to MIDI keyboard.
4.    Alesis Qmini
Alesis has launched many MIDI keyboard series over the years, but Alesis Qmini is the best one. For a nominal price, it offers you a wide range of functions. And if it's portability that you are looking for, Alesis Qmini is perfect for that as well.
It is a universally compatible keyboard, and you can connect it with any music production app which accepts a MIDI controller and start making your melodies. It also features assignable knobs for tactile control over any DAW. You can get access to the complete piano range through its octave buttons.
Key Features
32 velocity-sensitive keys
Compatible with PC/IOS/MAC
Controls for all parameters like octave, transpose, and pitch bend
Compatible with all DAWS(that accepts MIDI controllers)
Premium software suite
Assignable knobs
498 g weight
USB powered
Don't let your unique ideas get away while traveling; make your on-the-go music with Alesis Q mini.
5.    M-Audio Keystation 49 MK3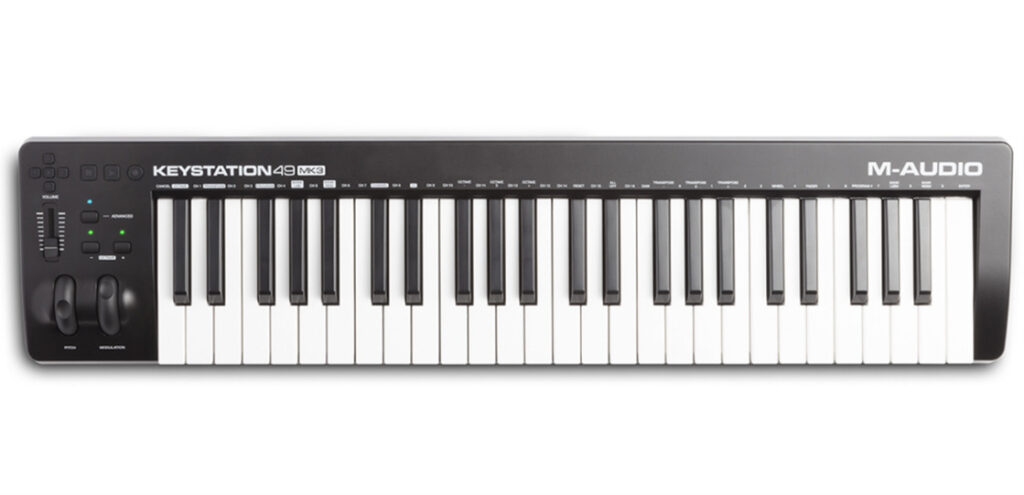 Last but not least MIDI keyboard on our list is M-Audio Keystation 49 MK3. M-Audio Keystation 49 MK3 is the best MIDI keyboard of the M series. From a seasoned pro to someone who is just taking his first step into the world of music production, M-Audio Keystation 49 MK3 is perfect for everyone.
It has 49 velocity-sensitive keys, you feel your hands syncing into them, and it gives you an excellent boost in your recording workflow.
M-Audio Keystation 49 MK3 is also compatible with IOS. It allows you to perform and produce music on your iPad and other IOS devices, making it a perfect addition to your musical instruments.
Key Features
49 Velocity-sensitive keys
Compatible with Mac/PC/IOS
USB-MIDI connection for playing virtual instruments and much more
Volume fader for more profound plugin control
Compact design
USB powered
Includes Ableton Live Lite and MPC recording software
Customizes pitch bends or mod wheels to control any parameters
All these features make M-Audio keystation 49 MK3 a perfect choice for music producers and traveling musicians.
Best MIDI Keyboards for Music Production: Conclusion
There you have it, folks, our list of the best MIDI keyboards. It doesn't matter; if you are looking for something cheap with excellent specifications or portable to take on your travels, you will surely find something on our list that will serve your needs and budget.  
If you enjoyed it don't forget to check "best budget hot swappable keyboards".